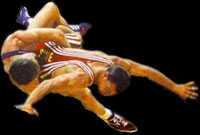 Jesus actually wrestled our sin match for us, so to speak, as he took our sins upon himself on the cross and suffered our punishment due us from a just and righteous God,
For he hath made him (jesus Christ), who knew no sin, to be sin for us, that we might be made the righteousness of God in Him.
- II Corinthians 5:21
So God's Son, Jesus Christ, paid for our sins. He paid the ultimate price demanded by a just God, but in so doing Jesus also expressed the ultimate love of a merciful God.
But God commendeth his love toward us, in that, while we were yet sinners, Christ died for us.
-Romans 5:8