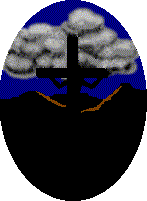 So the Lord Jesus Christ was pinned with our sins on Calvary's Cross; He wrestled our match for us. He died for us, but he did not stay dead. He rose again the third day that we might be made just in God's sight...forever. Yes, He arose the Victor over sin, death and the grave. Jesus said, I am alive forever more, (Revelations 1:18) and I am the resurrection, and the life, he that believeth in me, though he were dead, yet shall he live, and whosoever believeth in me shall never die. Believeth thou this? (John 11:25-26).
Now, Wrestle, if you believe that the Lord Jesus Christ has wrestled your match well and that for you He has pinned sin, spiritual death and condemnation of Hell to that cruel cross once and for all-you too can share that victory with Him.
But thanks be to God, who giveth us the victory through our Lord Jesus Christ. -I Corinthians 15:57
For a moment in time it appeared that man's sin were too great for the Lord Jesus Christ to overcome. That sin would be victorious...especially when Jesus Christ was nailed to the cross. But He arose from the grave a victor over the dark domain.